QUESTIONS AND ANSWERS

Who is Remotesat?

Remotesat is family run business with a wealth of knowledge in the Internet dialup business, satellite internet as well as wireless technology, and we understand the importantance the Internet is to business, whether it be a City business, a Rural Business, a Resort on a Remote Island or a Fly-in Fishing Lodge. Professionally trained technicians in not only Satellite installations but in Computers and Networking as well. We offer full Computer/Networking and Internet support packages. In conjunction with CCCO NET INC. we also offer full service Website Design as well as Hosting and Email management on our state of the art server, located on a major Internet Backbone.

What is Satellite Internet by Remotesat?

We install the DirecWay satellite-based two-way broadband Internet service for residential and commercial users. This service can also be connected to schools and large offices for fast access for many users.

What is Wireless Internet by Remotesat?

Fixed wireless refers to wireless devices or systems that are situated in fixed locations. Fixed wireless high-speed Internet refers to a technology that transmits broadband service through the air using point-to-point or point-to-multipoint infrastructure as opposed to using wireline technology such as fiber or copper, which is what DSL and cable services use.

What kind of Computer do I need to use this service?

Operating system: PC: Windows 98 SE, Windows Me, Windows 2000, Windows XP
MAC: 9.0-10.2 (excludes 10.0)
Processor: PC: Pentium II 333 MHz or faster
MAC: 300 MHz or faster
Memory (RAM): PC: 64MB RAM (Windows 98SE and Windows Me);
128MB RAM (Windows 2000 and Windows XP)
MAC: 128MB
Free Hard Drive Space: PC: 100MB
MAC: 150MB
Networking Capability: 10/100 Ethernet pre-equipped (configured for auto-negotiate)
***Extra Components May be Required
56 Kbps phone modem (Hardware Based) / telephone line, for commissioning and software reinstallation of the Ku-band powered by Direcway system.
An Ethernet adapter. (excluding DW4000 modem)
* Windows 2000 and XP users must have the latest service pack installed.
** The DW4000 modem does not support the Macintosh operating system.

What do I need to supply?

You must provide a clear view of the southern sky. The satellite dish can be mounted to a wooden post, concrete/brick wall or on a steel post. The mounting plate is about 10" square and must be bolted down securely. The dish points to the same area in the sky as the Bell ExpressVu Dish. Click HERE for a Look-Angle Calculator.
Shown in the photo; a DirecWay Internet dish mounted below an ExpressVu Dish


Can I install the system myself?

No, sorry you can not. Because DirecWay is a sophisticated piece of satellite equipment with a transmit antenna directing power up to the satellite, the installation and pointing is tightly controlled by the FCC and Industry Canada, therefore a certified professional must do the installation. Remotesat has on staff a number of specially trained and certified installers, who use specialized equipment, to complete this for you. If you are in a very remote area we may be able to find a local certified installer for you or make other arrangements. Contact us.

Toronto area?

Yes! We have qualified installers in your area.

Remote Fly-in or Boat-in Locations?

Yes! You fly us in to your lodge or business and we will do the rest.

How fast is this Satellite Internet connection?

The download speeds are rated at 400 kbps. This is roughly 8 times faster than a good connection on a 56K dialup modem. We regularly see downloads exceeding 1200 kbps however these speeds are not guaranteed. The upload speed is rated at up to 128 kbps (30-60Kbps typical) still considerably faster than most modems. As most Internet use consists of downloading information to view, this translates to blazing fast Internet for you.

Is this system filtered or restricted in any way?

No, there are no filters or restrictions as to what sites or information you can download. There is however a Fair Access Policy you must agree to. This is to insure all users have fair access to bandwidth and one user can not abuse the system. Most users will never run into this for normal business and personal use.

Does this system work with VPN and Private networks?

Here is a quote Directly from Hughes:

The communication satellite is located over 22,000 miles from Earth. Each data packet must be sent down separately and acknowledged by the remote site. This process is very time-consuming. In order to expedite the delivery of data packets to our end-users, HUGHES has developed a patented technology for aggregating those packets and sending all of them down simultaneously. VPNs encrypt each data packet which prevents our technology from aggregating the data packets and reduces the throughput significantly.

Do I need a Fixed IP Address?

In most cases, no. If you are doing VPN or Private Networks you probably will, however most applications do not need it. If you find you need it at a later date, you can simply upgrade to the fixed IP package.

Does the Direcway system need a network card in my computer?

No, the system is connected to your computer via a USB port, however you may want to connect other computers on your local network to the Internet as well. For this you will need a network card in each computer connected together.

You mean I can run multiple computers on the Satellite Internet connection?

Of course. Just connect them together using Windows Networking, a network card in each computer and each computer can access the Internet for the same price. You can also connect this into your existing network. Remember, the more computers you connect the slower your speed will be if each is downloading large files.

What if I don't have a USB port on my computer?

After market cards are available for a reasonable price to expand your computer to accept USB connections however this is very often an indication that your computer is getting old. Maybe time for an upgrade? We can even help you with that.

Who is my Internet Service Provider with this system?

Direcway becomes your ISP. Included are up to 5 email addresses. Remotesat is only your installer and local support for the hardware. Remember, if you have your own domain with email addresses, these are not affected and work as before.

Who is my Service and Support Contact with this system?


Okay, one more time; I don't need any phone lines for this system?

You got it! No phone lines!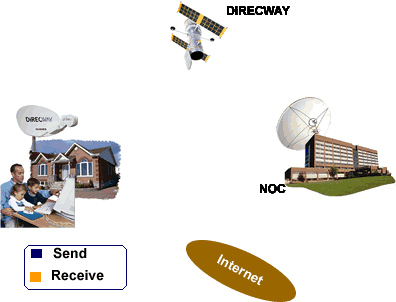 Is there a time contract for the Internet Service?

Yes, the service rates are based upon a one year contract with Direcway, however, if you need this service on a seasonal basis, there are alternative options available. Please contact us for details. We will work with you to make it feasible.

I live at my Resort for 6 months, and at my Winter home for 6 months.
Can I use this in both places?

Yes options are available, that for a reasonable price, you can activate the dish for 6 months only. This way you do not pay during the winter months. You will however be required to pay a reasonable fee for this service. Contact us for details.

Where does Remotesat install and service these systems?

Our team of Remotesat installers are fully qualified and licensed to install the Two way Satellite system anywhere in Canada. From remote islands in resort areas to business offices in major cities, Remotesat is ready and able to service your company. Please contact us for a quote. You will see just how simple we make it for you.

Can I purchase this system and have it installed in the USA?

Yes you can. Please contact us for a quote and details.

I have seen what seems to be the same system, priced at a lower purchase cost or cost per month. What's the deal with that?

One on two things may have happened. You either have seen a different type of service advertised or all costs associated with the connection may not have been revealed. Let us know what you have seen and we will take a look for you. We pride ourselves in fair pricing with the very best service for you and your system.
Just a note: This is a very different system than the Bell ExpressVu dial return system and some other systems out there, both in installation and performance.

Can I use this system for Telephone and Fax?

Yes you can send and receive all of your faxes via the satellite connection at your existing email address. All faxes sent to your personal Fax-to-Email number will be routed to your existing email address and will appear as email attachments. This is an add-on service and is not included in the pricing for the Remotesat system.
Telephone service is available now!
Telephone is also not included in the pricing for the Remotesat system.
Visit our Telephone page to see details about this by clicking HERE

So how do I get more information to have this system installed right now?

Email or Call us. We would be more than happy to get you on-line at high speed with the service level you deserve.
If you have any questions or comments, Email or call us anytime. We don't have "store hours" therefore Saturday night and Sunday calls are no problem at all.



HOME | EQUIPMENT | NEWS | WHY SATELLITE? | PHOTOS | PRICING | CONTACT US

1-800-897-8047